Provides a wide selection of Maine state-specific (and multi-state) legal forms across the most popular legal areas. Includes real estate contracts, wills, pre-marital agreements, bankruptcy, divorce, landlord tenant and many others. Also included is a comprehensive attorney state directory and a dictionary of legal definitions explained in laymen's language.
Please click on the Legal Forms link below to get started!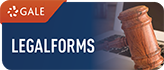 Additional Legal Forms & Resources:
Legal Help  HelpME Law is the best source for information on laws, legal organizations, and the court system in Maine.
Legal Services for the Elderly provides free, high quality legal services to Maine's socially and economically needy elderly age 60 and over.
Financial Guide for Veterans drafted by law students at the University of Maine, free to download.