Rent the Library's Board Room, Community Room, or The Office for your next meeting or program.  Call the library on (207) 594-0310 for availability.  Once you have determined availability, print an application form (below) and send or fax to Rockland Public Library with your payment (see below for rates).  Payment is due before we can schedule the room.  A refundable $50 damage deposit is required for use of the A/V equipment and/or when food is permitted.  A separate check is required for the deposit. (This check is cashed in the event of damage to the room or equipment and does not hold the room. Full payment is required to hold the room.)
Available Rooms
Friends' Community Room
Amenities & Capacity:
Projector for videos & presentations (soon to be upgraded)
Lectern with microphone
Dry-erase board
Max. capacity: 75
Fees:
$25.00 per hour
$50.00 - $75.00 per hour if AV Equipment used; $50.00 if food permitted
$175-560.00 (hourly fee-dependent) maximum all-day (up to 8 hours)
$75.00 (separate) refundable damage deposit for AV equipment usage $50.00 (separate) refundable cleaning charge may be required when food is served or permitted
$25.00 Room set-up charge (optional)
Board Room
Amenities & Capacity:
Great for smaller meetings
Max capacity: 15
Fees:
$15.00 per hour
$20.00 per hour if food is permitted
$130.00 maximum for all day use (up to 8 hours)
The Office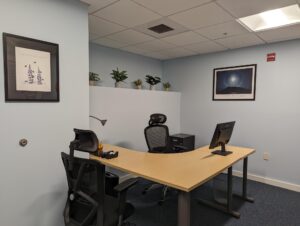 Amenities & Capacity:
An inviting and private space designed for remote work, small meetings, and collaborative work.
Large monitor with cables to connect your laptop, both a reading lamp and task lighting, and a multi-function outlet tower, to plug in all your devices
Max capacity: 3
Fees:
$10.00 hour
$65.00/day
$300.00/week (5 day rental)  Monthly or longer rental periods might be negotiated with Library
Lamson Tutor Room
Amenities & Capacity:
For tutor sessions or individual study**
Great for Zoom meetings & Skyping
Print magnifier for folks with low vision
Please see the Checkout or Information Desk for access; usage is limited to 2 hours.
Fees:
Free.  First come first serve
**Tutoring sessions are given priority.